April 20 2017
April 19 2017
April 18 2017
April 14 2017
April 11 2017


Year: 1969
Country: Germany, Spain, Italy, United Kingdom
Genre: Erotic, Drama
Duration: 01:38:16
Language: French

Director: JESS FRANCO
Starring: Maria Schell, Herbert Lom, Mercedes McCambridge, Maria Rohm, Rosalba Neri, Elisa Montes, Luciana Paluzzi, Valentina Godoy, Jose Maria Blanco, Mike Brendel, Elsa Zabala

Description: Jess Franco also known as Joan Almirall, Rosa Maria Almirall, Candy Coster, Chuck Evans, Dennis Farnon, Jeff Frank, John A. Lazer, Franco Manera, etc.Jess Franco - a truly Stakhanovets of the movie. His filmography includes more than 170 films (and all the aliases under which he worked, nobody knows - only the "official" alias he's over fifty!) and still, being already at an advanced age (71 years), he continues to shoot and produce. In General, all the work of Franco revolves around two eternal themes of sex and violence. Franco loves sex and naked women, but at least he loves violence, so his movies are always a huge amount of nudity and sex softcore mixed with torture and bloody violence. Already well-established scheme it worked in this film - a lot of young naked female bodies, of course, humiliation and violence, the latest in the film especially a lot.

Extras. Information: Island .. Beautiful women ... Randy Warden .. Jungle ... Brutal males .. Beautiful music ....Full version of the famous film. (Do not cut).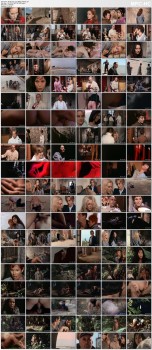 Quality: DVDRip
Format: AVI
Size: 1.45 GB
Video: Xvid 704x480 23.976fps 2 122 Kbps
Audio: Dolby AC3 48000Hz stereo 192kbps


99_Women_(Les_BRULANTES).avi